Who We Are
---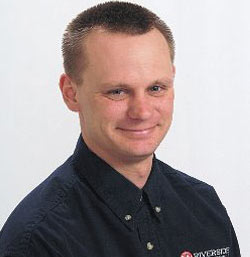 Career Summary
Aside from his role as a partner in Riverside Land Surveying LLC, Keith's primary responsibilities include office management, project management, and fieldwork. He is skilled in formulating project bids, drafting survey maps, and acting as a survey crew chief. Keith handles all business and accounting functions and provides customer service to a growing number of business clients.
Prior to joining Riverside Land Surveying LLC, Keith was a survey crew chief at a large engineering firm in Central Wisconsin. In 2004, he received his State license, during which time, he had extensive responsibilities for providing construction staking, providing boundary surveys, and drafting survey maps. Prior to this, Keith was a Land Survey Technician and Drafter at a small Central Wisconsin survey firm. His responsibilities at that time included drafting survey maps and assisting in fieldwork of boundary surveys. In 2000, Keith obtained his Associate Degree in Land Surveying from Nicolet Technical College, Rhinelander, Wisconsin.
Keith is an active member and a volunteer at his local church, and enjoys a membership with the Wausau Chamber of Commerce through Riverside Land Surveying LLC.
Certification/Registration and Professional Affiliations
Professional Land Surveyor
Trimble Real Time Kinematic GPS Training
40-Hour Hazardous Waste Site Worker Training - 29 CFR 1910.120
Wisconsin Department of Transportation Mine Safety Training
Wisconsin Society of Land Surveyors (State and Local Chapters)